Block Brick
BREATHING
Solid-wall air and give structure is appropriate.
VERTICAL VENTS
Stall dry air contains heat insulation. savings do not fall into the mortar. Provides compressive strength of the vertical holes.
SURFACE SlVA HOLDER
With increasing pattern of the surface that faces the side of the physical adhesion coating provides maximum.
MAFİS POROUS STRUCTURE
When cooked the natural structure of the pores in the soil provides a natural brick.
Cooking
950 C is cooked all the bricks on the top level resistance to outside weather conditions.
Tongue and groove
Eliminates the use of vertical mortar joints. Pressure application allows wall yawns.
HEAT STORAGE
Has the ability to store massive structure. In the heat of the sun's energy during the day within the holding gives the night environment. Removing the temperature difference between night and day acts as a natural air conditioner.
WATER INTAKE
With micronized water within the capillary channels contain the massive structure.
SMOOTH SIZE
Miter prismatic structure that ensures a smooth surface.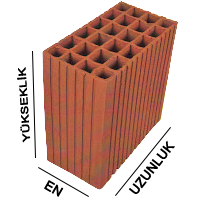 8.5 Perforated Clay Brick Masonry Unit IIYatay 190X190X85 mm LD CATEGORY
Length (mm)
190±3
Width (mm)
85±3
Height (mm)
190±3
Unit Area (Unit)
27
Bulk density (kg/m3)
600
Weight (g)
1800±100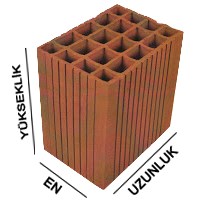 CATEGORY II LD 190X190X135 mm 13.5 Horizontal Perforated Clay Brick Masonry Unit
Length (mm)
190±3
Width (mm)
135±3
Height (mm)
190±3
Unit Area (Unit)
27
Bulk density (kg/m3)
530
Weight (g)
2600±100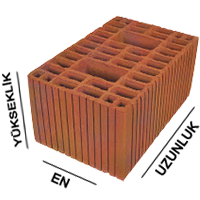 290X190X135 mm vertical perforated clay masonry Masonry Unit LD CATEGORY
Length (mm)
290±3
Width (mm)
190±3
Height (mm)
135±3
Unit Area (Unit)
25
Bulk density (kg/m3)
550
Weight (g)
4000±100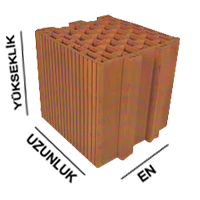 24X24 INTERLACED 240X240X235 mm
Length (mm)
240±3
Width (mm)
190±3
Height (mm)
240±3
Unit Area (Unit)
17
Bulk density (kg/m3)
650
Weight (g)
8000±100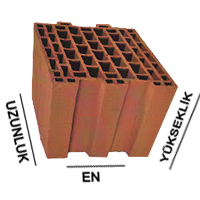 24X19 INTERLACED 240X240X190 mm
Length (mm)
240±3
Width (mm)
190±3
Height (mm)
235±3
Unit Area (Unit)
21
Bulk density (kg/m3)
700
Weight (g)
6500±100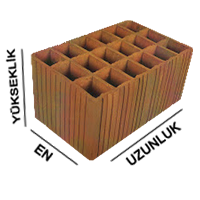 25 HOLLOW 190X400X250 mm
Length (mm)
400±3
Width (mm)
190±3
Height (mm)
250±3
Unit Area (Unit)
10
Bulk density (kg/m3)
500
Weight (g)
8000±100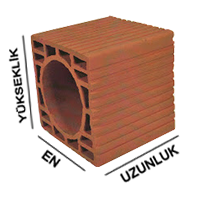 ROUND FUNNEL 190X190X190 mm
Length (mm)
190±3
Width (mm)
190±3
Height (mm)
190±3
Unit Area (Unit)
5
Bulk density (kg/m3)
650
Weight (g)
4100±100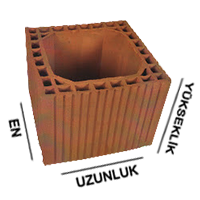 SQUARE CHIMNEY 250X190X190 mm
Length (mm)
250±3
Width (mm)
190±3
Height (mm)
190±3
Unit Area (Unit)
5
Bulk density (kg/m3)
450
Weight (g)
5100±100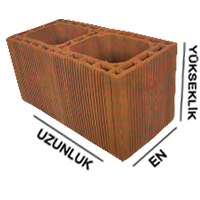 CHIMNEY shunt 400X190X190 mm
Length (mm)
400±3
Width (mm)
190±3
Height (mm)
190±3
Unit Area (Unit)
5
Bulk density (kg/m3)
500
Weight (g)
8000±100